Course Details - UXO Investigations – Safety Awareness
Price: £285 + Vat
Duration: 1 Day
Click Here to View Course Dates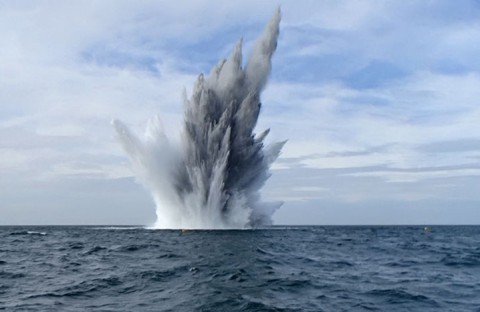 Course Overview:
The possibility of the presence of unexploded ordnance (UXO) is a very real threat during dockyard diving or on the construction phase on many offshore windfarm projects. Commercial Divers are used routinely to search for, locate and identify suspicious items in docks and rivers, or around production platforms or turbine locations and cable routes during the pre-construction phase. Major operators such as E.ON have stipulated that divers who wish to participate in this area of diving works, must first have undergone a suitable training programme. Ramora UK have world-renowned expertise in explosives detection and disposal and the PDA are now fully accredited by Ramora to run the UXO Investigation and Identification Safety Awareness Course.
This 1 day course has been developed to teach safety critical inspection and identification techniques for underwater UXO surveys using divers, and will include detailed instruction on the use of diver hand operated magnetometers for locating and measuring suspicious objects. The Aquascan DX 300 Magnetometer is arguably the most commonly used in the offshore renewables sector and has been chosen for use on this course. It is a highly-sensitive detection tool which can pinpoint the location of suspect items underwater, even when buried.
Upon successful completion of the training, theoretical and practical assessment process, graduates will be issued with a certificate of training competence from Ramora UK, which will be valid for a period of 3 years.
Note: It should be emphasised that this course does not qualify divers to undertake ordinance disposal works, only the safe operational techniques for locating and identifying UXO. Specialist companies such as Ramora will always be brought in for the disposal phase.
Who Should Attend:
Commercial air divers/supervisors who as part of their role will potentially be involved with UXO investigation projects, or risk contact with UXO during wider operations
Prerequisites: HSE surface supplied diver (or a recognised equivalent) and HSE recognised diving medical